Turmeric Helps Prevent Alzheimer's Disease, Cancer and a Variety of Diseases, Studies Find
You've come to the right place if you want to learn more about the health benefits of curcumin, the key component of turmeric, an ancient spice most notably used in Indian cuisine. Below you'll find exciting information about ongoing studies proving turmeric's benefits, in addition to the latest news and tastiest recipes employing the spice.
Research at UCLA has revealed that turmeric --a spice common in Indian cuisine-- is an effective antioxidant that can help prevent the devastating plaques that cause Alzheimer's Disease. [1]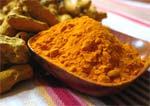 Doctors have determined that a daily regimin of 200 mg of curcumin, a potent phytochemical and the key component of turmeric, can help stave off the disease and ensure continued mental acuity.
A study published in December, 2004 indicated that curcumin is effective at both low and high doses to fight oxidation and inflammation, easing symptoms caused by Alzheimer's Disease. Curcumin is also a natural preservative and food dye. For years, it has been used to treat several forms of cancer. [2]
Studies looking at its antioxidant properties were initiated after researchers had found a markedly lower incidence of Alzheimer's Disease in people from India. The incidence of Alzheimer's Disease in the United States is nearly 4-1/2 times that of India.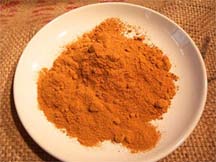 While the human brain itself has limited defenses against the ravages of oxidation, it does have one weapon: heme oxygenase-1, or HO-1. HO-1 helps the brain rid itself of damaging toxins, and the 2004 study shows compelling evidence that curcumin induces Heme oxygenase-1. [3]
UCLA/VA Study Finds Chemical Found in Curry May Help Immune System Clear Amyloid Plaques Found in Alzheimer's Disease -- UCLA Health and Medicine News
Curcumin inhibits formation of Abeta oligomers and fibrils and binds plaques and reduces amyloid in vivo -- Yang et al., 10.1074/jbc.M404751200 -- Journal of Biological Chemistry
Doubting turmeric's benefits? Read recent news stories:
'Turmeric can inhibit cancer causing cells'
Posted 03/30/2014 02:53 PM
The low incidence of colon cancer in Asians is due to the presence of curcumin, which is an active ingredient in turmeric


Trials on to make turmeric a food supplement
Posted 04/14/2014 11:56 AM
Arjuna Natural Extracts Ltd is pinning its hopes on clinical trials of the value-added properties of turmeric for its usage as a food supplement. The Kerala-based company is carr...


Nutrition Solutions / Lisa Corrado
Posted 04/13/2014 10:19 AM
Ginger and turmeric are not only delicious, they're caped crusaders disguised as spices. Studies have shown that both are incredibly effective at reducing inflammation. Sometimes they even beat anti-inflammatory drugs.


Turmeric branded latest superfood to protect against Alzheimer's
Posted 04/10/2014 05:26 AM
Melbourne, April 10 (ANI): Researchers have said that turmeric could protect against a host of brain diseases, including Alzheimer's disease. Dr Michael Murray, co-author of the Textbook of Natural Medicine and one of the world's leading authorities on natural medicine, said that various spices in Indian curries are used not only for their flavour, also but for their medicinal properties, News ...


Don't get sidelined! 8 ways to recover from workouts faster
Posted 04/18/2014 02:22 PM
Ever try running that extra mile, upping the ante in your weight-training routine or trying out a new aerobics class only to pay for it in sore muscles the next day…or two?


NIMS, IICT scientists develop new technique to combat cancer
Posted 03/21/2014 10:10 AM
Hyderabad, March 21 (IANS) A team of scientists from Nizam's Institute of Medical Sciences (NIMS) and Indian Institute of Chemical Technology (IICT) discovered an innovative technique to combat cancer. A team led by Vijay Kumar Kutala, associate professor of clinical pharmacology in NIMS, in collaboration with Srigiridhar Kotamraju, senior scientist from IICT developed the technique to deliver ...


Tech Universe: Wednesday 09 April
Posted 04/08/2014 04:45 PM
FINGERED FOR CRIME: The fingerprints left behind at a crime scene could reveal more than just the obvious pattern of ridges and hollows. Researchers at Sheffield Hallam University found that dusting with


Seven Tips To Prevent Lower Back Pain
Posted 04/15/2014 12:22 PM
Your lower back especially is a very vulnerable area, prone to injury, particularly as we age. The wear and tear of living eventually weakens the skeletal structure, causing bone loss and disintegrated or displaced discs. And you're not alone: 8 out of 10 Americans experience back pain at some time, making it the fifth most common reason to visit the doctor. According to Chinese medicine, bones ...


Ask The Pharmacist: A dozen ways to reduce chronic pain
Posted 04/09/2014 01:52 PM
Question: I have chronic pain and take ibuprofen daily plus hydrocodone and celecoxib. I'm willing to do anything right now that could help. The craziest thing is that nothing happened to me, I just developed pain over the years, no accidents, no trauma.


Seven-A-Day: How To Get Those Extra Fruit And Vegetable Portions Into Your Diet
Posted 04/03/2014 11:15 AM
Just when most of us had finally figured out how to get 'five a day' into our diets, we're now being told to ramp our daily fruit and veg intake up to seven portions . The increase, based on information provided by the Word Health Organisation, can lower the risk of serious health problems such as heart disease , stroke , type 2 diabetes and obesity , according to the NHS. "We have known for a ...