Turmeric Helps Prevent Alzheimer's Disease, Cancer and a Variety of Diseases, Studies Find
You've come to the right place if you want to learn more about the health benefits of curcumin, the key component of turmeric, an ancient spice most notably used in Indian cuisine. Below you'll find exciting information about ongoing studies proving turmeric's benefits, in addition to the latest news and tastiest recipes employing the spice.
Research at UCLA has revealed that turmeric --a spice common in Indian cuisine-- is an effective antioxidant that can help prevent the devastating plaques that cause Alzheimer's Disease. [1]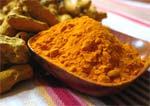 Doctors have determined that a daily regimin of 200 mg of curcumin, a potent phytochemical and the key component of turmeric, can help stave off the disease and ensure continued mental acuity.
A study published in December, 2004 indicated that curcumin is effective at both low and high doses to fight oxidation and inflammation, easing symptoms caused by Alzheimer's Disease. Curcumin is also a natural preservative and food dye. For years, it has been used to treat several forms of cancer. [2]
Studies looking at its antioxidant properties were initiated after researchers had found a markedly lower incidence of Alzheimer's Disease in people from India. The incidence of Alzheimer's Disease in the United States is nearly 4-1/2 times that of India.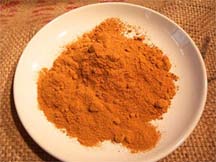 While the human brain itself has limited defenses against the ravages of oxidation, it does have one weapon: heme oxygenase-1, or HO-1. HO-1 helps the brain rid itself of damaging toxins, and the 2004 study shows compelling evidence that curcumin induces Heme oxygenase-1. [3]
UCLA/VA Study Finds Chemical Found in Curry May Help Immune System Clear Amyloid Plaques Found in Alzheimer's Disease -- UCLA Health and Medicine News
Curcumin inhibits formation of Abeta oligomers and fibrils and binds plaques and reduces amyloid in vivo -- Yang et al., 10.1074/jbc.M404751200 -- Journal of Biological Chemistry
Doubting turmeric's benefits? Read recent news stories:
Turmeric Curcumin Capsules by Everpure are Now Discounted on Amazon
Posted 11/27/2013 03:40 PM
NEW YORK, Nov. 27, 2013 /PRNewswire-iReach/ -- Everpure, a company dedicated to improving the health of people around the world, recently announced its decision to offer a 20-percent discount on its Turmeric Curcumin capsules. Each bottle of Everpure's Curcumin C3(R) Mega Complex contains 120 pure vegetarian capsules. According to a guide published by the University of Maryland, umm.edu/health ...


Curry Compound Kills Cancer Cells
Posted 12/05/2013 07:01 PM
Scientists have found a very unusual potential...


Private Label Nutraceuticals Introduces New Turmeric Curcumin Formulation
Posted 11/26/2013 05:12 AM
Private Label Nutraceuticals, leading private label contract manufacturer of nutritional products and supplements, launches Tumeric Curcumin 500, a newly developed formula featuring Turmeric Curcumin. (PRWeb November 26, 2013) Read the full story at http://www.prweb.com/releases/PrivateLabelNutraNov2013/TumericCurcumin/prweb11368126.htm


10 Top Foods To Boost Brainpower
Posted 12/08/2013 10:41 AM
Turmeric, the spice that gives curry and mustard their yellow color, contains a chemical called curcumin that s the subject of numerous neurologic studies right now. Research has shown curcumin s ability to boost memory, slow the progression of Alzheimer's and stimulate neurogenesis, which is the process of creating new brain cells. Studies suggest curcumin may also clear out amyloid plaques ...


Frutarom Will Market NovaSOL® Curcumin
Posted 11/15/2013 04:31 AM
Frutarom Switzerland Ltd., Health BU, joins forces with Aquanova AG, the German pharma GMP manufacturer of superior ingredient formulas, to market NovaSOL® Curcumin, a solubilized, highly bioavailable form of curcumin for the dietary supplement and food manufacturing industries


Vitamin D Can Help Fight Multiple Sclerosis By Blocking Destructive Cells
Posted 12/10/2013 05:30 AM
Vitamin D may combat multiple sclerosis (MS) by blocking the migration of destructive immune cells to the brain, new research suggests. The findings may help explain anecdotal reports of the "sunshine vitamin" preventing or easing symptoms, say scientists. MS is known to be more prevalent in parts of the world furthest from the equator, where there is less sunshine to trigger production of ...


A Grocery Bag of Beneficial Antioxidants
Posted 11/26/2013 05:19 PM
Daily food choices present an opportunity to score some healthy, flavorful, antioxidant-positive nutrition points, according to the November issue of Mayo Clinic Health Letter.


Local Treatment Center Says Spices May Be A Key To Fighting Cancer
Posted 11/14/2013 12:12 PM
Hospital patients at the Cancer Treatment Centers of America facility in Northeast Philadelphia got a lesson on the health benefits of cooking with Indian spices.


These Surprisingly Colorful Cold-Weather Superfoods Are Anything But Boring
Posted 11/21/2013 09:26 AM
Fresh, juicy, yummy and savory aren't exactly words normally used to describe broccoli. Despite several health benefits of the cruciferous vegetable, most Americans think of it as a squishy, boring side dish to hurry up and finish before being allowed to leave the dinner table. But our collective negative view of broccoli could have to do with how it looks when it's served to us, explains ...


Can food affect your mood?
Posted 11/26/2013 07:11 AM
As a piece of chocolate melts on your tongue, you can literally feel stress leave you and bliss greet you. But is it just a trick of the mind?