Turmeric Helps Prevent Alzheimer's Disease, Cancer and a Variety of Diseases, Studies Find
You've come to the right place if you want to learn more about the health benefits of curcumin, the key component of turmeric, an ancient spice most notably used in Indian cuisine. Below you'll find exciting information about ongoing studies proving turmeric's benefits, in addition to the latest news and tastiest recipes employing the spice.
Research at UCLA has revealed that turmeric --a spice common in Indian cuisine-- is an effective antioxidant that can help prevent the devastating plaques that cause Alzheimer's Disease. [1]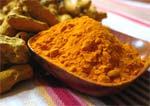 Doctors have determined that a daily regimin of 200 mg of curcumin, a potent phytochemical and the key component of turmeric, can help stave off the disease and ensure continued mental acuity.
A study published in December, 2004 indicated that curcumin is effective at both low and high doses to fight oxidation and inflammation, easing symptoms caused by Alzheimer's Disease. Curcumin is also a natural preservative and food dye. For years, it has been used to treat several forms of cancer. [2]
Studies looking at its antioxidant properties were initiated after researchers had found a markedly lower incidence of Alzheimer's Disease in people from India. The incidence of Alzheimer's Disease in the United States is nearly 4-1/2 times that of India.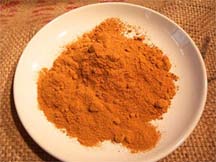 While the human brain itself has limited defenses against the ravages of oxidation, it does have one weapon: heme oxygenase-1, or HO-1. HO-1 helps the brain rid itself of damaging toxins, and the 2004 study shows compelling evidence that curcumin induces Heme oxygenase-1. [3]
UCLA/VA Study Finds Chemical Found in Curry May Help Immune System Clear Amyloid Plaques Found in Alzheimer's Disease -- UCLA Health and Medicine News
Curcumin inhibits formation of Abeta oligomers and fibrils and binds plaques and reduces amyloid in vivo -- Yang et al., 10.1074/jbc.M404751200 -- Journal of Biological Chemistry
Doubting turmeric's benefits? Read recent news stories:
3 Reasons to Include Turmeric in Your Diet - U.S. News & World Report (blog)
Posted 07/24/2015 07:08 AM
Treating Alzheimer's with Turmeric - Care2.com
Posted 07/31/2015 01:37 PM
Turmeric could help treat diabetes, reveals new study - Daily News & Analysis
Posted 07/17/2015 10:09 AM
3 reasons turmeric is a boon for diabetics - TheHealthSite
Posted 07/30/2015 07:45 AM



3 reasons turmeric is a boon for diabeticsTheHealthSite

However, a recent study conducted by the health scientists from the University of Newcastle's Nutraceuticals Research Group, led by Professor Manohar Garg, pointed out that a compound present in

turmeric

–

curcumin

, when coupled with omega-3 fats may ...
Some Studies Reveal The Potential Benefits Of Turmeric For Cataracts - MENAFN.COM
Posted 07/30/2015 01:06 AM
The NatureGreen's Turmeric Curcumin Capsules Aid In The Easy And Smooth Flow ... - MENAFN.COM
Posted 07/16/2015 02:25 AM
Growing turmeric is fun and healthy - Orlando Sentinel
Posted 08/02/2015 12:31 PM

Orlando Sentinel



Growing turmeric is fun and healthyOrlando Sentinel

The active ingredient in

turmeric

,

curcumin

, is a powerful antioxidant that has been proven to be effective against several chronic, debilitating diseases. While my husband has incorporated

turmeric

into his diet because of its medicinally curative and ...
Turmeric + fish oil could prevent type 2 diabetes - ABC Local
Posted 07/14/2015 09:36 PM
Research Finds Turmeric to Be a Metabolism Booster - Digital Journal
Posted 07/22/2015 05:00 AM



Research Finds Turmeric to Be a Metabolism BoosterDigital Journal

Research finds

turmeric

to be a metabolism booster. This spice has been used for thousands of years, both as a kitchen ingredient and a natural remedy for various conditions. Today, it is widely available as a powder in grocery stores or as

curcumin

...

und weitere »
Tu Me Water Now Available at Gelson's - BevNET.com
Posted 08/03/2015 01:38 PM

BevNET.com



Tu Me Water Now Available at Gelson'sBevNET.com

The need inspired Nasir to call on his Mothers herbal remedies, and experiment with

turmeric

, eliminating the bitter taste, and capitalizing on the inflammation-fighting potency of '

curcumin

', the key active ingredient found in the 3000 year old

...