Turmeric Helps Prevent Alzheimer's Disease, Cancer and a Variety of Diseases, Studies Find
You've come to the right place if you want to learn more about the health benefits of curcumin, the key component of turmeric, an ancient spice most notably used in Indian cuisine. Below you'll find exciting information about ongoing studies proving turmeric's benefits, in addition to the latest news and tastiest recipes employing the spice.
Research at UCLA has revealed that turmeric --a spice common in Indian cuisine-- is an effective antioxidant that can help prevent the devastating plaques that cause Alzheimer's Disease. [1]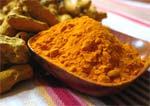 Doctors have determined that a daily regimin of 200 mg of curcumin, a potent phytochemical and the key component of turmeric, can help stave off the disease and ensure continued mental acuity.
A study published in December, 2004 indicated that curcumin is effective at both low and high doses to fight oxidation and inflammation, easing symptoms caused by Alzheimer's Disease. Curcumin is also a natural preservative and food dye. For years, it has been used to treat several forms of cancer. [2]
Studies looking at its antioxidant properties were initiated after researchers had found a markedly lower incidence of Alzheimer's Disease in people from India. The incidence of Alzheimer's Disease in the United States is nearly 4-1/2 times that of India.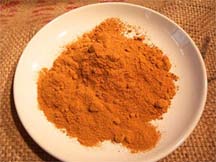 While the human brain itself has limited defenses against the ravages of oxidation, it does have one weapon: heme oxygenase-1, or HO-1. HO-1 helps the brain rid itself of damaging toxins, and the 2004 study shows compelling evidence that curcumin induces Heme oxygenase-1. [3]
UCLA/VA Study Finds Chemical Found in Curry May Help Immune System Clear Amyloid Plaques Found in Alzheimer's Disease -- UCLA Health and Medicine News
Curcumin inhibits formation of Abeta oligomers and fibrils and binds plaques and reduces amyloid in vivo -- Yang et al., 10.1074/jbc.M404751200 -- Journal of Biological Chemistry
Doubting turmeric's benefits? Read recent news stories:
Turmeric Lets You Get Creative with Cauliflower
Posted 10/20/2014 09:39 AM
Treat yourself to turmeric-spiced cauliflower. With its vibrant yellow color and superb nutritional value.


Clinical Trial at Kyoto Medical Center Proves Efficacy of Curcumin in Knee Osteoarthritis
Posted 10/16/2014 11:00 AM
The Orthopedics Division at National Hospital Organization, Kyoto Medical Center, announced that it has confirmed the efficacy of Theracrumin®, absorption enhanced curcumin*1 on kn


10 Top Foods To Boost Brainpower
Posted 10/07/2014 11:14 AM
Did you know some foods stimulate brain cell production, while others prevent memory loss? A guide to 10 top brain-boosting foods to keep your thinking strong.


Disease-fighting foods
Posted 10/29/2014 06:15 AM
When it comes to taking care of your health, prevention is key. This means going to regularly scheduled doctor and dental appointments, but it also means getting plenty of exercise, fruits, and vegetables.


Public warned vs turmeric 'cure'
Posted 10/07/2014 08:28 PM
The Food and Drug Administration (FDA) on Tuesday warned the public against a turmeric-based herbal food supplement being promoted in newspaper and online advertisements as a remedy for all sorts of inflammation in the body.


Spices, Herbs Helps To Boost Your Brain Power
Posted 10/11/2014 10:12 PM
With an aging population, more and more people are becoming aware of the problem of Alzheimer's disease and other forms of dementia and are wondering what they can do to reduce their chances of developing this kind of cognitive disease.


Lifestyle Tips to Reduce Chronic Inflammation
Posted 10/23/2014 03:52 AM
Millions of Americans endure the pain of chronic inflammation, and even when pain is not apparent, millions more run the risk of serious diseases triggered by chronic inflammation.


New Hope Natural Media Presented 24 Natural Products Manufacturers with Awards at Natural Products Expo East
Posted 10/02/2014 09:00 AM
BOULDER, Colo., Oct. 2, 2014 /PRNewswire/ --  New Hope Natural Media presented 24 natural products manufacturers with awards at the 29 th annual Natural Products Expo East , the East Coast's largest natural, ...


Could A Food Scanner Change How We Understand Diet and Health?
Posted 10/15/2014 01:44 PM
Tellspec is working on a handheld scanner that tells you what's in your food--and adds diet to the developing map of health data. Isabelle Hoffmann, the CEO of a food scanning company called Tellspec , pours two delicate cups of organic keemun tea and sets a jar of raw honey in front of me on her kitchen counter. It reminds her of a conversation she had with a food analysis lab scientist. "He ...