Turmeric Helps Prevent Alzheimer's Disease, Cancer and a Variety of Diseases, Studies Find
You've come to the right place if you want to learn more about the health benefits of curcumin, the key component of turmeric, an ancient spice most notably used in Indian cuisine. Below you'll find exciting information about ongoing studies proving turmeric's benefits, in addition to the latest news and tastiest recipes employing the spice.
Research at UCLA has revealed that turmeric --a spice common in Indian cuisine-- is an effective antioxidant that can help prevent the devastating plaques that cause Alzheimer's Disease. [1]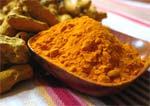 Doctors have determined that a daily regimin of 200 mg of curcumin, a potent phytochemical and the key component of turmeric, can help stave off the disease and ensure continued mental acuity.
A study published in December, 2004 indicated that curcumin is effective at both low and high doses to fight oxidation and inflammation, easing symptoms caused by Alzheimer's Disease. Curcumin is also a natural preservative and food dye. For years, it has been used to treat several forms of cancer. [2]
Studies looking at its antioxidant properties were initiated after researchers had found a markedly lower incidence of Alzheimer's Disease in people from India. The incidence of Alzheimer's Disease in the United States is nearly 4-1/2 times that of India.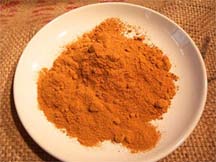 While the human brain itself has limited defenses against the ravages of oxidation, it does have one weapon: heme oxygenase-1, or HO-1. HO-1 helps the brain rid itself of damaging toxins, and the 2004 study shows compelling evidence that curcumin induces Heme oxygenase-1. [3]
UCLA/VA Study Finds Chemical Found in Curry May Help Immune System Clear Amyloid Plaques Found in Alzheimer's Disease -- UCLA Health and Medicine News
Curcumin inhibits formation of Abeta oligomers and fibrils and binds plaques and reduces amyloid in vivo -- Yang et al., 10.1074/jbc.M404751200 -- Journal of Biological Chemistry
Doubting turmeric's benefits? Read recent news stories:
Why Food Variety Matters Much More Than Blockbuster Nutrients
Posted 07/13/2014 02:26 AM
Turmeric is said to be the latest " blockbuster nutrient ", helpful for "everything from heart disease to Alzheimers, asthma to arthritis." But is there any scientific evidence behind this claim, or is it just another example of the tendency to get hyped-up about certain food components, which may be doing more harm than good? More »          


Superfood claims need grain of salt
Posted 07/13/2014 09:45 PM
Turmeric is said to be the latest "blockbuster nutrient", helpful for "everything from heart disease to Alzheimer's, asthma to arthritis".


Obsessing over superfoods might not be healthy
Posted 07/15/2014 01:45 AM
Many so-called superfoods have not bee proven to be that.


This Just In
Posted 07/18/2014 10:18 AM
A new program is helping LSU researchers across the state move their inventions to market, and Dr. Cherie-Ann Nathan, Professor & Chair of Otolaryngology/Head & Neck Surgery at the School of Medicine in Shreveport, is among the first of its grant recipients.


Add turmeric to meals for weight loss
Posted 07/15/2014 01:31 AM
A healthy metabolism boosterTurmeric is one of those fragrant spices we all have at hom...


10 Top Foods To Boost Brainpower
Posted 07/18/2014 08:08 AM
Did you know some foods stimulate brain cell production, while others prevent memory loss? A guide to 10 top brain-boosting foods to keep your thinking strong.


NeuroVision Imaging Eye Test Shows Potential for Early Detection of Changes Associated with Alzheimer's Disease in ...
Posted 07/14/2014 08:05 AM
NeuroVision Imaging, LLC announced today that preliminary results of a major clinical trial show the company's investigational noninvasive imaging system appeared to detect changes


Expert Column: Fancy Food Show, Sip by Sip
Posted 07/03/2014 02:26 PM
The Specialty Food Association wrapped up another successful Summer Fancy Food Show on July 1. Three days is not nearly enough time to visit with 2,730 companies from 80 countries. It was the largest in the association's history, after all. About 1,500 of the exhibitors were from the U.S.


New Research Finds Pretreatment of Mesothelioma Cells with These Two Compounds Boosts Chemotherapy Response, According ...
Posted 07/23/2014 07:31 PM
A curcumin analog and a drug normally used to prevent rejection of organ transplants may make mesothelioma cells more susceptible to chemotherapy. (PRWeb July 23, 2014) Read the full story at http://www.prweb.com/releases/2014/07/prweb12031796.htm


Get an EYEFUL OF CURRY for the sake of your brain
Posted 07/15/2014 01:57 AM
These boffins tested turmeric: you won't REMEMBER what happens next Researchers at Australia's Commonwealth Scientific and Industrial Research Organisation (CSIRO) have announced that turmeric – the root that imparts a distinctive yellow colour and subtle flavour to curry – has clinical applications in testing for Alzheimer's disease.…