Turmeric Helps Prevent Alzheimer's Disease, Cancer and a Variety of Diseases, Studies Find
You've come to the right place if you want to learn more about the health benefits of curcumin, the key component of turmeric, an ancient spice most notably used in Indian cuisine. Below you'll find exciting information about ongoing studies proving turmeric's benefits, in addition to the latest news and tastiest recipes employing the spice.
Research at UCLA has revealed that turmeric --a spice common in Indian cuisine-- is an effective antioxidant that can help prevent the devastating plaques that cause Alzheimer's Disease. [1]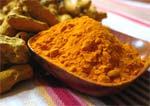 Doctors have determined that a daily regimin of 200 mg of curcumin, a potent phytochemical and the key component of turmeric, can help stave off the disease and ensure continued mental acuity.
A study published in December, 2004 indicated that curcumin is effective at both low and high doses to fight oxidation and inflammation, easing symptoms caused by Alzheimer's Disease. Curcumin is also a natural preservative and food dye. For years, it has been used to treat several forms of cancer. [2]
Studies looking at its antioxidant properties were initiated after researchers had found a markedly lower incidence of Alzheimer's Disease in people from India. The incidence of Alzheimer's Disease in the United States is nearly 4-1/2 times that of India.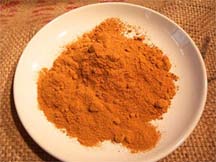 While the human brain itself has limited defenses against the ravages of oxidation, it does have one weapon: heme oxygenase-1, or HO-1. HO-1 helps the brain rid itself of damaging toxins, and the 2004 study shows compelling evidence that curcumin induces Heme oxygenase-1. [3]
UCLA/VA Study Finds Chemical Found in Curry May Help Immune System Clear Amyloid Plaques Found in Alzheimer's Disease -- UCLA Health and Medicine News
Curcumin inhibits formation of Abeta oligomers and fibrils and binds plaques and reduces amyloid in vivo -- Yang et al., 10.1074/jbc.M404751200 -- Journal of Biological Chemistry
Doubting turmeric's benefits? Read recent news stories:
Turmeric Curcumin Extract and White Mulberry Leaf Extract Now On Sale Through Vitruvian Natural Lab
Posted 08/19/2014 12:51 AM
Vitruvian Natural Lab is a Leading Supplier of Natural Health Supplements Made in the USA (PRWeb August 18, 2014) Read the full story at http://www.prweb.com/releases/White-Mulberry-leaf/Turmeric-Curcumin/prweb12101023.htm


Turmeric Curcumin Benefits Health: New Report Released On Natural Supplement
Posted 08/18/2014 04:58 AM
Pure Health Origins officially released their report today detailing specific health benefits of Turmeric. The easy-to-read report highlights little-known and key scientific reasons to include Turmeric Curcumin daily to...


10 Top Foods To Boost Brainpower
Posted 08/17/2014 09:02 AM
Did you know some foods stimulate brain cell production, while others prevent memory loss? A guide to 10 top brain-boosting foods to keep your thinking strong.


11 Ingredients That Make You Lose Weight
Posted 08/20/2014 04:00 AM
Start cooking with these fat-destroying ingredients to keep you trim without even trying


New Research Finds Pretreatment of Mesothelioma Cells with These Two Compounds Boosts Chemotherapy Response, According ...
Posted 07/23/2014 07:31 PM
A curcumin analog and a drug normally used to prevent rejection of organ transplants may make mesothelioma cells more susceptible to chemotherapy. (PRWeb July 23, 2014) Read the full story at http://www.prweb.com/releases/2014/07/prweb12031796.htm


5 Home Remedies You Can Find in Your Kitchen
Posted 07/22/2014 04:10 AM
While serious conditions need the attention of a doctor, it might not hurt to reach for one of these items the next time you have a minor health problem.


Spice up your beauty routine
Posted 07/23/2014 07:26 AM
Most of us spice up our food, but have you ever considered spicing up your skin and hair routines?


Foods to ease Crohn's
Posted 07/26/2014 06:18 AM
If you have Crohn's disease, you want to avoid flare-ups at all costs. Although diet can't cure it, avoiding or making smart food choices can help ease your symptoms.


Healthy Food, Healthy Brain
Posted 08/16/2014 10:24 PM
Eating well is important for both of your mental and physical health, your brain needs nutrients just like your heart, liver or muscles do, you can help your brain stay sharp by following some healthy food habits.


Can Retinal Imaging Predict Early-Stage Alzheimer's?
Posted 07/21/2014 11:36 PM
A group of researchers may have discovered a way to use a noninvasive retinal imaging device to reliably predict Alzheimer's disease years before its actual onset.