Turmeric Helps Prevent Alzheimer's Disease, Cancer and a Variety of Diseases, Studies Find
You've come to the right place if you want to learn more about the health benefits of curcumin, the key component of turmeric, an ancient spice most notably used in Indian cuisine. Below you'll find exciting information about ongoing studies proving turmeric's benefits, in addition to the latest news and tastiest recipes employing the spice.
Research at UCLA has revealed that turmeric --a spice common in Indian cuisine-- is an effective antioxidant that can help prevent the devastating plaques that cause Alzheimer's Disease. [1]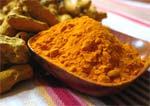 Doctors have determined that a daily regimin of 200 mg of curcumin, a potent phytochemical and the key component of turmeric, can help stave off the disease and ensure continued mental acuity.
A study published in December, 2004 indicated that curcumin is effective at both low and high doses to fight oxidation and inflammation, easing symptoms caused by Alzheimer's Disease. Curcumin is also a natural preservative and food dye. For years, it has been used to treat several forms of cancer. [2]
Studies looking at its antioxidant properties were initiated after researchers had found a markedly lower incidence of Alzheimer's Disease in people from India. The incidence of Alzheimer's Disease in the United States is nearly 4-1/2 times that of India.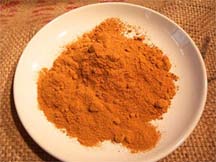 While the human brain itself has limited defenses against the ravages of oxidation, it does have one weapon: heme oxygenase-1, or HO-1. HO-1 helps the brain rid itself of damaging toxins, and the 2004 study shows compelling evidence that curcumin induces Heme oxygenase-1. [3]
UCLA/VA Study Finds Chemical Found in Curry May Help Immune System Clear Amyloid Plaques Found in Alzheimer's Disease -- UCLA Health and Medicine News
Curcumin inhibits formation of Abeta oligomers and fibrils and binds plaques and reduces amyloid in vivo -- Yang et al., 10.1074/jbc.M404751200 -- Journal of Biological Chemistry
Doubting turmeric's benefits? Read recent news stories:
Bubbles that could help to beat bowel cancer
Posted 09/01/2014 08:35 PM
Tiny fat bubbles loaded with popular curry ingredient curcumin may help fight colon cancer.


4 health benefits of spicy foods
Posted 09/16/2014 02:15 PM
Spicy foods do more than add flavor to your favorite meal.  Heat-packing foods, particularly chili peppers, jalapenos, habaneros, and cayenne, offer a surprising range of health benefits


Herbal Dietary Supplement Retail Sales Up 7.9% in 2013
Posted 09/03/2014 08:00 AM
AUSTIN, Texas, Sept. 3, 2014 /PRNewswire-USNewswire/ -- Sales of herbal dietary supplements in the United States increased by 7.9% in 2013, reaching a total estimated figure of six billion dollars for the first time. These statistics are conclusions of a new report published in the current issue of HerbalGram, the peer-reviewed quarterly journal of the nonprofit American Botanical Council (ABC ...


11 Ingredients That Make You Lose Weight
Posted 08/20/2014 04:00 AM
Start cooking with these fat-destroying ingredients to keep you trim without even trying


Life Lessons: Natural pain killers
Posted 08/26/2014 05:15 AM
Chronic pain affects 116 million American adults. That's more than a third of the U.S. population. \ While pain pills reduce suffering, they can be expensive, addictive, cause liver damage, and produce side effects. Instead, try these all-natural ways to treat what ails you. To relieve menstrual cramps, take ½ to 1 teaspoon of cramp bark tincture every 2 hours when you have your worst cramps ...


Parkinson's Disease Support Group
Posted 08/21/2014 05:58 PM
The Parkinson's Disease Support Group met Wednesday, Aug. 13 at the McGee Center with a large group attending. Bronnie Rose, group facilitator, introduced the contact people who call the members each month.