Turmeric Helps Prevent Alzheimer's Disease, Cancer and a Variety of Diseases, Studies Find
You've come to the right place if you want to learn more about the health benefits of curcumin, the key component of turmeric, an ancient spice most notably used in Indian cuisine. Below you'll find exciting information about ongoing studies proving turmeric's benefits, in addition to the latest news and tastiest recipes employing the spice.
Research at UCLA has revealed that turmeric --a spice common in Indian cuisine-- is an effective antioxidant that can help prevent the devastating plaques that cause Alzheimer's Disease. [1]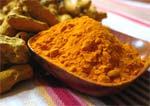 Doctors have determined that a daily regimin of 200 mg of curcumin, a potent phytochemical and the key component of turmeric, can help stave off the disease and ensure continued mental acuity.
A study published in December, 2004 indicated that curcumin is effective at both low and high doses to fight oxidation and inflammation, easing symptoms caused by Alzheimer's Disease. Curcumin is also a natural preservative and food dye. For years, it has been used to treat several forms of cancer. [2]
Studies looking at its antioxidant properties were initiated after researchers had found a markedly lower incidence of Alzheimer's Disease in people from India. The incidence of Alzheimer's Disease in the United States is nearly 4-1/2 times that of India.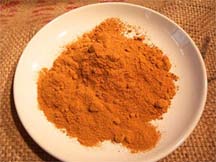 While the human brain itself has limited defenses against the ravages of oxidation, it does have one weapon: heme oxygenase-1, or HO-1. HO-1 helps the brain rid itself of damaging toxins, and the 2004 study shows compelling evidence that curcumin induces Heme oxygenase-1. [3]
UCLA/VA Study Finds Chemical Found in Curry May Help Immune System Clear Amyloid Plaques Found in Alzheimer's Disease -- UCLA Health and Medicine News
Curcumin inhibits formation of Abeta oligomers and fibrils and binds plaques and reduces amyloid in vivo -- Yang et al., 10.1074/jbc.M404751200 -- Journal of Biological Chemistry
Doubting turmeric's benefits? Read recent news stories:
How to add turmeric to your healthy diet
Posted 02/03/2015 07:17 PM
I've heard turmeric is a healthy spice to add to foods. How much should I take each day? Should I take a supplement instead?


Wakaya Perfection Now Offers Affordably Priced Organic Turmeric Powder
Posted 02/19/2015 01:40 PM
Wakaya Perfection Now Offers Affordably Priced Organic Turmeric Powder (PRWeb February 19, 2015) Read the full story at http://www.prweb.com/releases/wakayaperfection/organic-turmeric-powder/prweb12529820.htm


"Still Alice" Could Turmeric Have Helped Alice's Fight With Alzheimer's?
Posted 02/18/2015 08:09 AM
STUDIO CITY, Calif., Feb 18, 2015 /PRNewswire/ -- Abigon-Wilde Research LLC - IN THE MOVIE, STILL ALICE, the main character, Dr. Alice Howland is a practicing professor of linguistics at Columbia University. The doctor is sensitively and emotionally portrayed by actress, Julianne Moore.


Healthy Vitamins Joins with New Chapter to Announce a Sale on Heart Health Supplements
Posted 02/05/2015 03:40 AM
Healthy Vitamins discusses supplements to promote a healthy heart in their 45% off Heart Health with New Chapter sale this month. (PRWeb February 05, 2015) Read the full story at http://www.prweb.com/releases/2015/02/prweb12493341.htm


Our kids' bodies contaminated with chemicals (Part 16)
Posted 02/24/2015 09:28 PM
Last week, I covered another type of contamination that could affect children in different ways. It was alcohol and how it affects physiological development of foetuses and how it could alter their facial features, shape, and bone structure.