Turmeric Helps Prevent Alzheimer's Disease, Cancer and a Variety of Diseases, Studies Find
You've come to the right place if you want to learn more about the health benefits of curcumin, the key component of turmeric, an ancient spice most notably used in Indian cuisine. Below you'll find exciting information about ongoing studies proving turmeric's benefits, in addition to the latest news and tastiest recipes employing the spice.
Research at UCLA has revealed that turmeric --a spice common in Indian cuisine-- is an effective antioxidant that can help prevent the devastating plaques that cause Alzheimer's Disease. [1]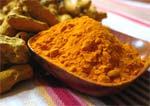 Doctors have determined that a daily regimin of 200 mg of curcumin, a potent phytochemical and the key component of turmeric, can help stave off the disease and ensure continued mental acuity.
A study published in December, 2004 indicated that curcumin is effective at both low and high doses to fight oxidation and inflammation, easing symptoms caused by Alzheimer's Disease. Curcumin is also a natural preservative and food dye. For years, it has been used to treat several forms of cancer. [2]
Studies looking at its antioxidant properties were initiated after researchers had found a markedly lower incidence of Alzheimer's Disease in people from India. The incidence of Alzheimer's Disease in the United States is nearly 4-1/2 times that of India.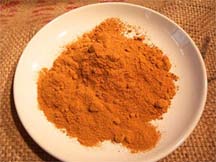 While the human brain itself has limited defenses against the ravages of oxidation, it does have one weapon: heme oxygenase-1, or HO-1. HO-1 helps the brain rid itself of damaging toxins, and the 2004 study shows compelling evidence that curcumin induces Heme oxygenase-1. [3]
UCLA/VA Study Finds Chemical Found in Curry May Help Immune System Clear Amyloid Plaques Found in Alzheimer's Disease -- UCLA Health and Medicine News
Curcumin inhibits formation of Abeta oligomers and fibrils and binds plaques and reduces amyloid in vivo -- Yang et al., 10.1074/jbc.M404751200 -- Journal of Biological Chemistry
Doubting turmeric's benefits? Read recent news stories:
Turmeric lattes and the golden age of health drinks | Stuff.co.nz - Stuff.co.nz
Posted 08/22/2016 04:00 AM
Alge, Rote Beete, Kurkuma | Trendige Latte-Getränke zum Selbermachen - BILD
Posted 08/27/2016 09:07 AM
Natural Curcumin of Turmeric Origin - The Untold Story - Natural Products INSIDER
Posted 08/19/2016 02:53 PM
Should Indians take turmeric pills or curcumin supplements? - TheHealthSite
Posted 08/16/2016 01:53 AM



Should Indians take turmeric pills or curcumin supplements?TheHealthSiteTurmeric

pills are a rage internationally. These pill, known as

curcumin

supplements, are popular in India, too, and are available online. As

turmeric

is packed with numerous health benefits, most people believe that including

turmeric

in the pill form

...
5 reasons turmeric is a super spice and you need to eat more of it - Cosmopolitan UK
Posted 08/04/2016 12:00 PM
Researchers find turmeric helps prevent Alzheimer's - Taipei Times
Posted 08/18/2016 12:03 PM



Researchers find turmeric helps prevent Alzheimer'sTaipei Times

Academia Sinica researchers have discovered that

curcumin

derivatives, which are commonly found in Indian cuisine such as curries and

turmeric

rice, can help prevent Alzheimer's disease, overturning a common assumption that it is

curcumin

itself that ...
How Curcumin With Black Pepper Can Heal Your Body - NewsBlaze (registration) (blog)
Posted 08/01/2016 09:08 PM
ARYA Curcumin+ hosts Hollywood Launch Party to debut new ... - PR Newswire (press release)
Posted 08/25/2016 03:24 PM
Superfood Trio: Ginger, Turmeric, and Carrots? - ProHealth
Posted 08/21/2016 12:13 AM

ProHealth



Superfood Trio: Ginger, Turmeric, and Carrots?ProHealth

One of

turmeric's

disadvantages is that

curcumin

is not quickly bioavailable, meaning that once ingested your body is unable to quickly absorb it to access the benefits. Interestingly, studies show accessibility is increased when you add, say for a cup

...
Six brands of tumeric added to recall for excessive lead - Food Safety News
Posted 08/08/2016 02:35 PM