Turmeric Helps Prevent Alzheimer's Disease, Cancer and a Variety of Diseases, Studies Find
You've come to the right place if you want to learn more about the health benefits of curcumin, the key component of turmeric, an ancient spice most notably used in Indian cuisine. Below you'll find exciting information about ongoing studies proving turmeric's benefits, in addition to the latest news and tastiest recipes employing the spice.
Research at UCLA has revealed that turmeric --a spice common in Indian cuisine-- is an effective antioxidant that can help prevent the devastating plaques that cause Alzheimer's Disease. [1]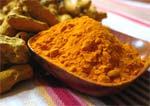 Doctors have determined that a daily regimin of 200 mg of curcumin, a potent phytochemical and the key component of turmeric, can help stave off the disease and ensure continued mental acuity.
A study published in December, 2004 indicated that curcumin is effective at both low and high doses to fight oxidation and inflammation, easing symptoms caused by Alzheimer's Disease. Curcumin is also a natural preservative and food dye. For years, it has been used to treat several forms of cancer. [2]
Studies looking at its antioxidant properties were initiated after researchers had found a markedly lower incidence of Alzheimer's Disease in people from India. The incidence of Alzheimer's Disease in the United States is nearly 4-1/2 times that of India.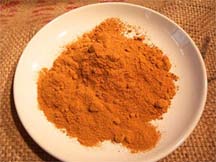 While the human brain itself has limited defenses against the ravages of oxidation, it does have one weapon: heme oxygenase-1, or HO-1. HO-1 helps the brain rid itself of damaging toxins, and the 2004 study shows compelling evidence that curcumin induces Heme oxygenase-1. [3]
UCLA/VA Study Finds Chemical Found in Curry May Help Immune System Clear Amyloid Plaques Found in Alzheimer's Disease -- UCLA Health and Medicine News
Curcumin inhibits formation of Abeta oligomers and fibrils and binds plaques and reduces amyloid in vivo -- Yang et al., 10.1074/jbc.M404751200 -- Journal of Biological Chemistry
Doubting turmeric's benefits? Read recent news stories:
The Superfood Spice You Should Be Eating Way More Often - Thrillist (blog)
Posted 06/16/2016 10:49 AM
Turmeric : Get To Know the 'Curcumin' Loaded Spice That Can Block Off Bad Memories - Parent Herald
Posted 06/14/2016 09:58 AM
Turmeric Rising: Turmeric and Curcumin Research Is Hot - Nutritional Outlook
Posted 06/15/2016 12:15 PM
Is Turmeric Just Another Stupid Wellness Trend? - Huffington Post UK
Posted 06/19/2016 01:47 PM

Huffington Post UK



Is Turmeric Just Another Stupid Wellness Trend?Huffington Post UK

A recent clinical trial randomised osteoarthritis sufferers to either an ibuprofen group, or a

curcumin

group; it appears that the

turmeric

extract was just as effective as ibuprofen for reducing pain. And in the case of going up or down stairs, may

...
Turmeric: The Spice of Life - ProHealth
Posted 06/26/2016 12:07 AM

ProHealth



Turmeric: The Spice of LifeProHealth

Further, research suggests

turmeric

(sometimes simply referred to in studies as

curcumin

) may be helpful in treating inflammatory bowel diseases, joint pain relief,rheumatoid arthritis, reduced joint swelling, and greater range of motion when ingested

...
Spice up your kitchen with turmeric - Toronto Star
Posted 06/13/2016 08:02 AM

Toronto Star



Spice up your kitchen with turmericToronto StarTurmeric

is a spice derived from the roots of the

Curcumin

longa plant, which is native to Southeast Asia. Perhaps best known for providing the distinct flavour behind curry dishes,

turmeric

contains a class of active compounds known as curcuminoids

...
It's Time You Consumed More Turmeric: 21 Excellent Recipes That Make It Easy - StyleCaster
Posted 06/24/2016 03:34 PM
This Is Why Everyone's So Obsessed With Turmeric Right Now - Huffington Post
Posted 06/06/2016 10:08 PM
Turmeric Is Effective In Treating Various Types Of Cancer: Study - NDTV
Posted 06/09/2016 12:13 PM
Turmeric: Could it help against Alzheimer's? - Miami Herald
Posted 05/27/2016 03:53 PM

Miami Herald



Turmeric: Could it help against Alzheimer's?Miami HeraldTurmeric's

power comes from the polyphenol

curcumin

found in the stem of the

turmeric

. It has been used medicinally for more than 3,000 years for ailments as diverse as congestion, bruising and blemishes. I trust the ancient alchemists but realized a

...