Turmeric Helps Prevent Alzheimer's Disease, Cancer and a Variety of Diseases, Studies Find
You've come to the right place if you want to learn more about the health benefits of curcumin, the key component of turmeric, an ancient spice most notably used in Indian cuisine. Below you'll find exciting information about ongoing studies proving turmeric's benefits, in addition to the latest news and tastiest recipes employing the spice.
Research at UCLA has revealed that turmeric --a spice common in Indian cuisine-- is an effective antioxidant that can help prevent the devastating plaques that cause Alzheimer's Disease. [1]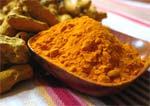 Doctors have determined that a daily regimin of 200 mg of curcumin, a potent phytochemical and the key component of turmeric, can help stave off the disease and ensure continued mental acuity.
A study published in December, 2004 indicated that curcumin is effective at both low and high doses to fight oxidation and inflammation, easing symptoms caused by Alzheimer's Disease. Curcumin is also a natural preservative and food dye. For years, it has been used to treat several forms of cancer. [2]
Studies looking at its antioxidant properties were initiated after researchers had found a markedly lower incidence of Alzheimer's Disease in people from India. The incidence of Alzheimer's Disease in the United States is nearly 4-1/2 times that of India.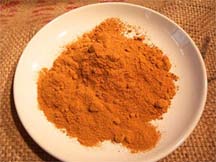 While the human brain itself has limited defenses against the ravages of oxidation, it does have one weapon: heme oxygenase-1, or HO-1. HO-1 helps the brain rid itself of damaging toxins, and the 2004 study shows compelling evidence that curcumin induces Heme oxygenase-1. [3]
UCLA/VA Study Finds Chemical Found in Curry May Help Immune System Clear Amyloid Plaques Found in Alzheimer's Disease -- UCLA Health and Medicine News
Curcumin inhibits formation of Abeta oligomers and fibrils and binds plaques and reduces amyloid in vivo -- Yang et al., 10.1074/jbc.M404751200 -- Journal of Biological Chemistry
Doubting turmeric's benefits? Read recent news stories:
Coal miners switch to turmeric farming in Meghalaya - Economic Times
Posted 11/30/2015 12:00 AM
Curcumin Market Analysis by Application (Pharmaceutical, Food, Cosmetics) and ... - GlobeNewswire (press release)
Posted 11/30/2015 07:48 AM
Study Shows Turmeric Can Reduce Symptoms of Depression, Anxiety - PR Newswire (press release)
Posted 11/12/2015 04:02 AM
Incredipure's Turmeric Curcumin Launches in Time for Black Friday Sales - Press Release Service (press release)
Posted 11/27/2015 08:22 PM
Turmeric: Nature's Nootropic and Anti-inflammatory Drug - Gazette Review
Posted 11/08/2015 06:06 PM
Study Shows BCM-95 Curcumin Can Help Reduce Depression and Anxiety - India West
Posted 11/19/2015 05:28 AM
Turmeric 'reduces symptoms of depression', study finds - FoodBev.com
Posted 11/17/2015 10:27 AM

FoodBev.com



Turmeric 'reduces symptoms of depression', study findsFoodBev.com

Researchers from Australia's Murdoch University, led by Dr Adrian Lopresti, found that supplementation of 500mg of the

turmeric

extract

curcumin

twice daily for eight weeks succeeded in reducing the overall symptoms of depression, by functioning as an ...
Turmeric can reduce symptoms of depression, anxiety: study - pharmabiz.com
Posted 11/14/2015 04:45 AM



Turmeric can reduce symptoms of depression, anxiety: studypharmabiz.com

Arjuna Natural Extracts Ltd., India's leading manufacturer and exporter of standardized botanical extracts for pharmaceutical and nutraceutical industries, is targeting the European market with its BCM-95

curcumin

, an all-natural patented formulation

...
Curcumin: Nature's Power Ingredient - WholeFoods Magazine
Posted 11/19/2015 05:18 PM



Curcumin: Nature's Power IngredientWholeFoods Magazine

Lamb, beef or chicken; you can curry anything. But did you know that there's one ingredient in curry that can have amazing effects in the body?

Turmeric

is a source of

curcumin

, a powerful antioxidant that is a key component in many joint- and brain

...
Curcumin: The All In One Solution - ProHealth
Posted 11/25/2015 03:05 AM

ProHealth



Curcumin: The All In One SolutionProHealth

Modern research has found that the effectiveness of

turmeric

is because of a natural compound it contains:

curcumin

. By extracting

curcumin

from

turmeric

, we have an even more powerful way to treat disease. Enhancing the absorption of

curcumin

by ...