Turmeric Helps Prevent Alzheimer's Disease, Cancer and a Variety of Diseases, Studies Find
You've come to the right place if you want to learn more about the health benefits of curcumin, the key component of turmeric, an ancient spice most notably used in Indian cuisine. Below you'll find exciting information about ongoing studies proving turmeric's benefits, in addition to the latest news and tastiest recipes employing the spice.
Research at UCLA has revealed that turmeric --a spice common in Indian cuisine-- is an effective antioxidant that can help prevent the devastating plaques that cause Alzheimer's Disease. [1]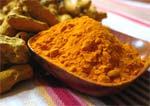 Doctors have determined that a daily regimin of 200 mg of curcumin, a potent phytochemical and the key component of turmeric, can help stave off the disease and ensure continued mental acuity.
A study published in December, 2004 indicated that curcumin is effective at both low and high doses to fight oxidation and inflammation, easing symptoms caused by Alzheimer's Disease. Curcumin is also a natural preservative and food dye. For years, it has been used to treat several forms of cancer. [2]
Studies looking at its antioxidant properties were initiated after researchers had found a markedly lower incidence of Alzheimer's Disease in people from India. The incidence of Alzheimer's Disease in the United States is nearly 4-1/2 times that of India.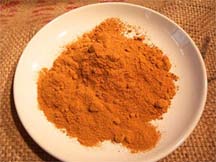 While the human brain itself has limited defenses against the ravages of oxidation, it does have one weapon: heme oxygenase-1, or HO-1. HO-1 helps the brain rid itself of damaging toxins, and the 2004 study shows compelling evidence that curcumin induces Heme oxygenase-1. [3]
UCLA/VA Study Finds Chemical Found in Curry May Help Immune System Clear Amyloid Plaques Found in Alzheimer's Disease -- UCLA Health and Medicine News
Curcumin inhibits formation of Abeta oligomers and fibrils and binds plaques and reduces amyloid in vivo -- Yang et al., 10.1074/jbc.M404751200 -- Journal of Biological Chemistry
Doubting turmeric's benefits? Read recent news stories:
Turmeric Lets You Get Creative with Cauliflower
Posted 10/20/2014 09:39 AM
Treat yourself to turmeric-spiced cauliflower. With its vibrant yellow color and superb nutritional value.


Clinical Trial at Kyoto Medical Center Proves Efficacy of Curcumin in Knee Osteoarthritis
Posted 10/16/2014 11:00 AM
The Orthopedics Division at National Hospital Organization, Kyoto Medical Center, announced that it has confirmed the efficacy of Theracrumin®, absorption enhanced curcumin*1 on kn


Turmeric may ward off dementia, heal the brain
Posted 09/26/2014 01:17 PM
Brooks Hays COLOGNE, Germany, Sept. 26 (UPI) -- A new study has found a that a main ingredient in curry powder, the spice turmeric, can help the brain regenerate neurons and ward off dementia.


Turmeric link to brain cell repair
Posted 09/25/2014 08:00 PM
An ingredient in the yellow curry spice turmeric may hold the key to repairing the brains of people with neurodegenerative diseases such as Alzheimer's, research suggests.


10 Top Foods To Boost Brainpower
Posted 10/07/2014 11:14 AM
Did you know some foods stimulate brain cell production, while others prevent memory loss? A guide to 10 top brain-boosting foods to keep your thinking strong.


This Curry Spice Might Help the Brain Heal Itself
Posted 09/28/2014 02:42 PM
A chemical commonly found in turmeric was shown to encourage nerve-cell growth in rats


Public warned vs turmeric 'cure'
Posted 10/07/2014 08:28 PM
The Food and Drug Administration (FDA) on Tuesday warned the public against a turmeric-based herbal food supplement being promoted in newspaper and online advertisements as a remedy for all sorts of inflammation in the body.


Now, dementia maybe cured with 'turmeric'
Posted 09/26/2014 08:06 AM
London, Sept 26 (ANI): Scientists have made a breakthrough in treating Alzheimer's disease and found that the spice turmeric could help beat dementia.


Curry spice 'helps brain self-heal'
Posted 09/25/2014 08:10 PM
An early study in rats suggests the spice turmeric may help boost the brain's ability to repair and regenerate itself.


Study Finds Mesothelioma Growth Slowed by Curcumin and Peptides, According to Surviving Mesothelioma
Posted 09/26/2014 07:14 AM
Cancer researchers in Ohio and Germany have demonstrated that mesothelioma cells can be destroyed in the lab with a combination of components, one of which comes from a popular spice. (PRWeb September 26, 2014) Read the full story at http://www.prweb.com/releases/2014/09/prweb12198782.htm